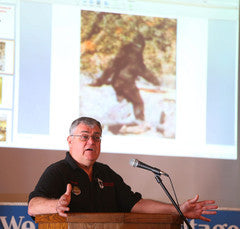 Doug Waller to Give Presentation on Bigfoot in Ohio Library
Doug Waller, founder of the Southeastern Ohio Society For Bigfoot Investigation (SOSBI), will be giving a presentation over Bigfoot at the Jackson City Library in Jackson, Ohio on February 26 at 7:00 PM local time.
The presentation is said to include a PowerPoint presentation of evidence the SOSBI has collected as well as the telling of eye-witness sightings and encounters of the elusive beast. Mr. Waller will also have two books he authored for sale at the event.
Formed in 2008, SOSBI's mission is to not just investigate the existence of Bigfoot, but to also provide an avenue for people to share their stories, encounters and beliefs in the creature without ridicule.
For more information please contact the Jackson City Library at (740) 286-4111.
---
1 comment